Forty-four Syracuse University students recently went on a unique immersion when  The iSchool and the Whitman School of Management's Retail Management Program collaborated to present the Retail Roadtrip. The road trip is an overnight field trip for students to explore the intersection of retail and technology. Students had the opportunity to visit big names in retail, as well as some up-and-coming companies who are using technology to promote retail in innovative ways.
The Retail Roadtrip is a variance on the many "roadtrips" the iSchool uses to create student immersion experiences, with one occurring each semester. In upcoming years, the iSchool and Whitman's Retail Management Program hope to host Retail Roadtrips biennially, allowing for new technology to develop between visits. This year's lineup included companies Macy's, Bloomingdales, Gilt Groupe, Quirky, Story, and Amazon.
Leveraging Tech
"All of these companies, for different reasons, are at a point where they're revolutionizing retail by leveraging technology," said Julie Walas-Huynh, a coordinator of the Retail Roadtrip and the director of academic advising and student engagement in the iSchool.
The first Retail Roadtrip (2011) coincided with the launch of the Digital Retail Strategies Concentration, a concentration between the iSchool and the Whitman Retail program. The program's goal is to expose retail students to the technology side of business, and to expose technology students to the business side of retail.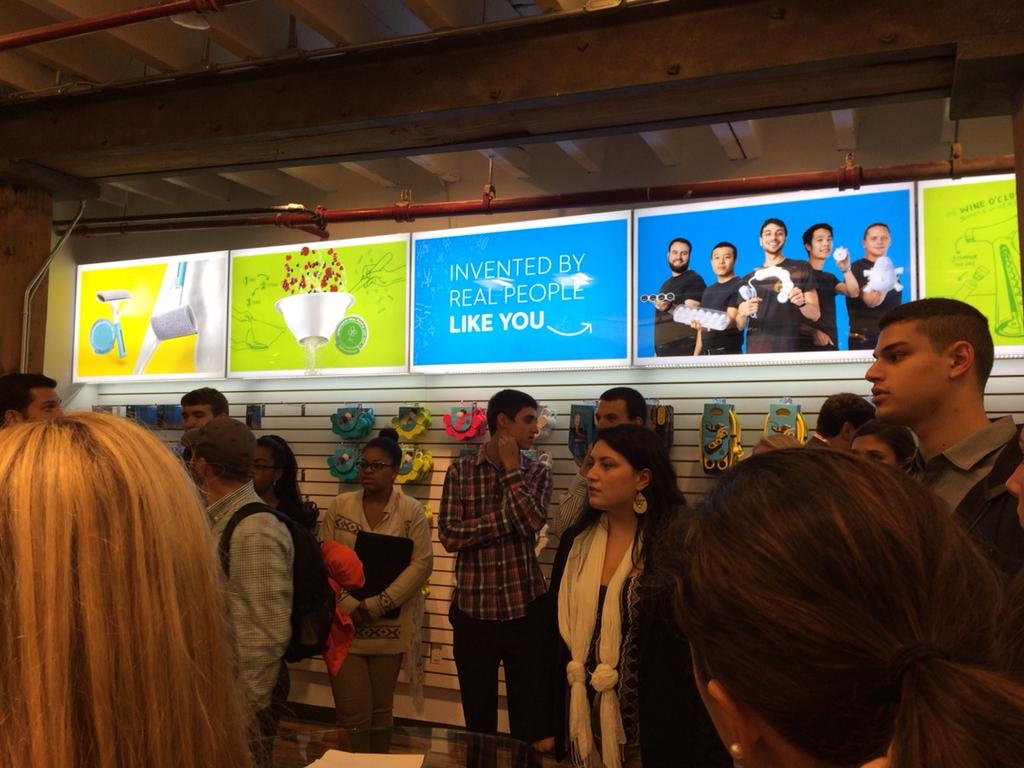 Though any undergraduate student in the iSchool or any student majoring in the Whitman Retail Management program could have applied to go on the trip, it's intended to get students interested in taking on the concentration between Whitman and the iSchool. "I think it opens their minds," said Linda Cushman, an associate professor of retail management in Whitman. "What we always tell them [retail students] is that it's all about learning how to communicate with people who are digital, not be the digital person."
And for the students who are the digital people, it's learning more about the buying and selling process. "Our students understand digital, but they really don't understand retail," said Jeff Rubin, associate professor of practice at the iSchool and CEO of SIDEARM Sports, who was involved in the genesis of the Retail Roadtrip idea. "They don't understand buying, and I think if you can bridge these two processes, it's really neat to see the collaborations that can take place."
Convention/Innovation
On this roadtrip, students still had the chance to visit conventional retail companies, like Macy's, but the focus shifted to include strictly digital retail companies. Amazon, for example, was a new addition to the  itinerary. "Amazon clearly has transcended all boundaries," Walas-Huynh said. "They proposed the idea of drone delivery services, and so that gets into some awesome things."
Though Amazon was a new stop, the trip returned to Gilt Groupe, an online shopping company. This time, students got to see where the site's photoshoots are done, in addition to the corporate offices.
Taylor Murphy, a junior information management and technology major, noted that this trip was her third to the company's headquarters. The first time was when she went on the Retail Roadtrip as a freshman; the second, as part of another iSchool field trip, EntreTech; and then this visit.
As a freshman, Murphy went on the trip as a way to figure out what area of technology she wanted to pursue. Though she went on many of the field trips the iSchool offers, she always found herself drawn to the retail side of technology. "I wanted to go on the Retail Roadtrip again because I feel like I'm more interested in doing the retail side of it, retail tech, rather than other roadtrips that I've gone on."
The networking aspect of the trip encouraged Murphy to go a second time. "It's one of the only times that we have to be face-to-face with people that will potentially be our coworkers or bosses," Murphy said. "It's just interesting to talk to them because we don't really have those opportunities otherwise."
Creating Networks
Walas-Huynh said facilitating networking opportunities for students is one of the major goals of the trip. "We can connect current students with our alumni" Walas-Huynh said. "We'll host an alumni event at every roadtrip and bring our young students together with our young alums."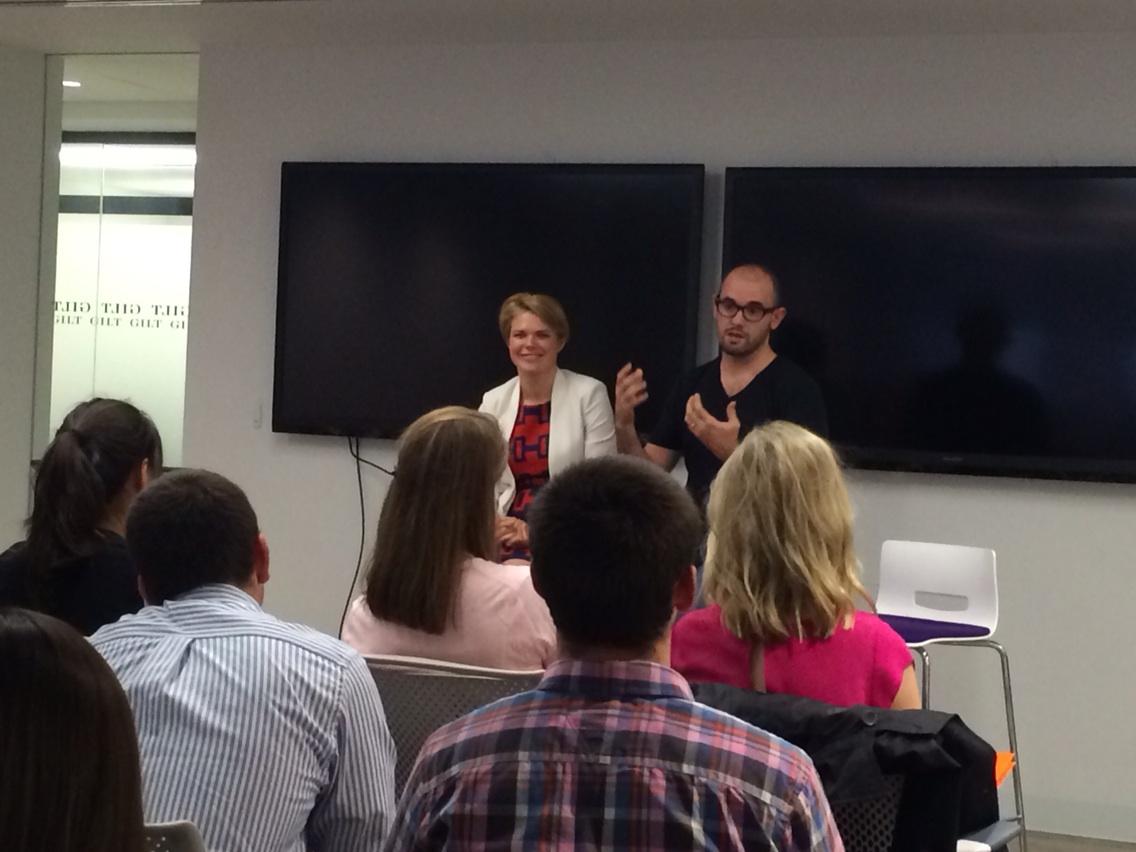 Cushman agreed that the trip's success has to do with Syracuse University alumni. 'We are so grateful for all the alums that work at these various companies and help us get a foot in the door and let these new students…The SU alum are very loyal and they work very hard on behalf of the students that are coming after them."
Considering that a recent poll conducted by SU Career Services suggests that networking is the best way to obtain a job after graduation, the Retail Roadtrip has the right idea.
"They're not inviting us in just because we call and say we're Syracuse University,"  Rubin said, "They're looking for future employees."
Applied Learning
However, networking isn't the only focus. Another objective is to show students how their classroom learning can be applied in the real world. Murphy said the first roadtrip showed her how her technical skills would be applicable to real life. "It definitely puts into perspective the things you learn in class," said Murphy, "how it relates to a real life business and company."
But it was Rubin that summed up the overarching goal of the trip — to show students the dream jobs that could become reality. "What I'm hoping is that these kids come away with this understanding or appreciation of the complexity of digital retail, and perhaps a little more interest to say 'Wow, I could see myself working there,'" Rubin said. "Wherever that is, any one of these places we go to – 'I could see myself doing that.''
Have you gone on a road trip immersion? What were your impressions? What did you get out of it? Let us know in the comments!