Quick-response codes, better known as QR codes, were introduced in the auto industry in Japan in 1994 to track vehicles during manufacture.  The first QR code scanner and reader applications for smartphones became available in the United States around 2010. For those unfamiliar with QR code scanning, it is a customer engagement technique where the user scans the QR code box with their smartphone, and the mobile device takes the user to a designated site.
There is an ongoing debate on whether QR codes are dying, or are still of value to marketers. Recent statistics from eMarketer.com show that 39% of US citizens between 18-24 have used QR scans in magazines, 38% in mail, 35% on posters, and 21% on websites. But these statistics are based on people scanning a QR code at least once. These statistics may be based heavily on curiosity rather than continual usage. 
After doing some research, I came up with a lists of reasons why QR codes could be on a steady decline, what they're competing with, and some examples of creative ways to use them.
Why are QR codes unpopular?
1)   Lack of exciting content. Users are experiencing that some companies' QR codes are simply taking them to the company website or a boring ad. Often, using this call to action is inconvenient and not worth the trouble. The users want a new and exciting experience when using this technology.
2)   No built in QR scanner on the iPhone. Being an extremely popular phone for young individuals, the lack of a QR code scanner adds more inconvenience for the user. If you take a picture with a regular Android camera, it opens a QR Code reader app if you have one installed. Galaxy S IV and some Sony and Nokia models do have a built in scanner. In the App Store, you can find a few QR code readers, the most popular by ShopSavvy. 
3)   Bad locations. QR codes need to be in an area where the customer has time to go through the process. This includes bus stops, subway stops, magazines, etc. Some QR codes are in places with customers in a hurry, or have bad cell service!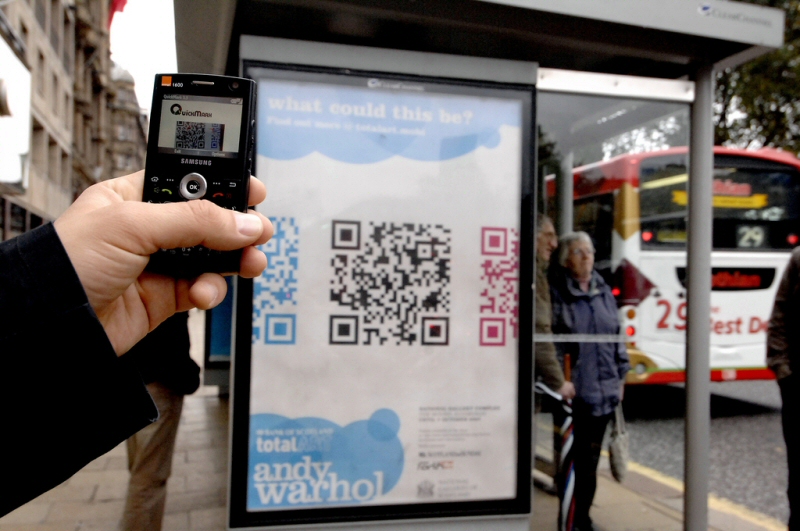 What are the other options for creative digital marketing?
1)   Alternate reality experiences. These also require a downloaded app, but allows for a much richer experience. These are becoming more popular with companies that want better consumer engagement and have creative marketing schemes.
2)   Universal Product Code (UPC). These are the standard bar codes on most items available for purchase, and can also be used for presenting information to consumers with a scanning device. 
3)   Near Field Communication (NFC). These are smartphones / similar devices that establish radio connection by touching together or close proximity.
4)   Gee.Am. This is a creative way for people or advertisers to transfer data to their mobile devices via audio signals.
What CAN QR codes help with?
1)   Shopping. The best example of this is Tesco HomePlus in South Korea, as an online store at bus and train stations where shoppers can use QR codes in a virtual grocery store, and the items will be delivered to their homes shortly after. Macy's has also recently added QR codes on clothing signs, where when the customer scans the code, they receive tips from the designers on how to wear those clothes. Anyone can create a QR code that links to a PayPal 'Buy Now'. 
2)   Campaigns & stories. The World Park Campaign used QR codes to create an interactive board game formatted campaign throughout New York's Central Park for the participant to view photos or read information about certain areas.
3)   Restaurants. QR codes can be on windows, menus, posters, etc. at food establishments. A creative use of QR codes in a restaurant is Mesob, an Ethiopian restaurant in New Jersey. Mesob has QR codes on their tables that take the user to instructional videos on how their coffee is made. You can also implement QR codes with a takeout menu.
4)   vCards & Resumes. Individuals can add a QR code that presents more information about their professional lives when scanned. This allows for the recipient to better engage with you on a digital media platform. 
5)   Promotions. Users can win free items by scanning the QR code, for example Taco Bell and ESPN raised awareness with their QR-code-only promotional campaign for the Bowl Championship series college football games.
6)   Music. QR codes can allow the user to download free music. A user can also make their own QR codes for music.
7)   Social media. QR codes can connect to a company's social media sites. An obvious way for companies or brands to get a 'Like' & 'Follow'.
8)   File transfers. Via Xsync, users can transfer whole files, photos, groups of files. This app has a built-in QR code scanner to read thee codes using the phone's camera. It is currently only on the iPhone.
The hassle surrounding using these codes seems insurmountable, especially during busy schedules. On the other hand, some argue that QR codes and scanning could replace typing, which is becoming a hassle for mobile users. Some argue that anything that does not involve typing is automatically better. When QR codes are presented well and used at a time where the user can go through the scanning process, they present an opportunity for a unique advertising experience. But for now, it seems that QR codes are just another technology that is more bother than it is worth. Though scanning a couple of them now will be entertaining for a few minutes each, it's definitely not a process many people are making a habit of since most results are unsatisfactory. What is the future of QR codes? It's up to the consumer to decide. 
What are your thoughts on QR codes? Comment below or tweet to @brittanyander!