By: J.D. Ross
(315) 443-3094
When the Syracuse University TEDx conference, Evolve, takes over the stage on Friday evening in Watson Theater, among the lineup of speakers will be one student from the School of Information Studies (iSchool).
For senior Hailey Temple, the TEDx venue serves as a way for her to improve her speaking skills and "share ideas and thoughts that will resonate with college students, ideas that will be relevant and help me connect to them," she said.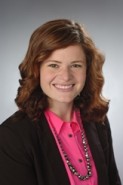 Temple, a dual major in the iSchool's Information Management and Technology program, and the Newhouse School of Public Communication's Public Relations program, views her talk as a welcome challenge.
"I hope that the audience feels empowered by my talk, that they realize that their personal passions and ambitions are more attainable that they might seem to be at first," Temple said.
Although the exact topic of her talk will remain a secret until she takes the stage, Temple believes that she has a lot to bring to the audience. "I'm giving them a down-to-earth presentation about something important," she said. "I want to feel like I'm talking to each audience member individually."
"My talk is focused on technology," said Temple, "and in preparing for my talk, I've been speaking with a lot of students and faculty at the iSchool, and they've been instrumental in helping me prepare for this talk, and for the next chapter of my life.
For Temple, speaking at the conference is one of the last major events of her senior year at Syracuse. In May, she'll graduate and start her career track with software and services corporation SAP in Philadelphia. There, she'll join SAP's multidisciplinary Design Thinking Team as a Global Design Thinking Practitioner.
"The iSchool has offered me such a wide range of experiences, I've been exposed to so many areas - entrepreneurship, technology, communications," said Temple. "The iSchool gives you the taste of many areas together, which is important for today's workplace, you can't be siloed. You have to have a variety of skills and be willing to try new areas and new technologies."
"I feel I definitely received real-world preparation here," said Temple, "and found a supportive network of people who wanted me to succeed and find the job that I was looking for."